Fall 2015
Eyes wide cut: the American origins of Korea's plastic surgery craze
– Laura Kurek
South Korea's obsession with cosmetic surgery can be traced back to an American doctor, raising uneasy questions about beauty standards.
At sixteen stories high, the doctor's office looms over the neon-colored metropolis. Within the high-rise, consultation offices, operating rooms, and recovery suites occupy most floors. Additional floors house a dental clinic, a rooftop lounge, and apartments for long-term stays. This is Beauty Korea (BK), a one-stop, full-service plastic surgery facility in the heart of Seoul, South Korea.
South Korea has an obsession with plastic surgery. One in five South Korean women has undergone some type of cosmetic procedure, compared with one in twenty in the United States. With plastic surgery's staggering rise in popularity, an attractive physical appearance is now the sine qua non for a successful career. Undergoing surgery to achieve an employable face in South Korea is just as commonplace as going to the gym in America.
The most popular surgery is Asian blepharoplasty, the process of changing the Asian eyelid, commonly referred to as the "monolid," into a double eyelid. The second is rhinoplasty, or a nose job. The prevalence of these two procedures, especially the "double-eyelid" operation, has led to a delicate question: Are South Koreans are seeking to westernize their appearance? Cosmetic surgeons and scholars tread lightly around the issue. Some argue that Western culture — a broad and imperfect term — cannot claim "big eyes" as unique to its definition of beauty. Others note that only 50 percent of the Asian population is born with monolids. Some practitioners, including Dr. Hyuenong Park of OZ Cosmetic Clinic and Beverly Hills plastic surgeon Kenneth Steinsapir, deny altogether that double-eyelid surgery is intended to make its recipient appear more Western.
The story of an American surgeon in the postwar Korea of the 1950s, however, suggests otherwise.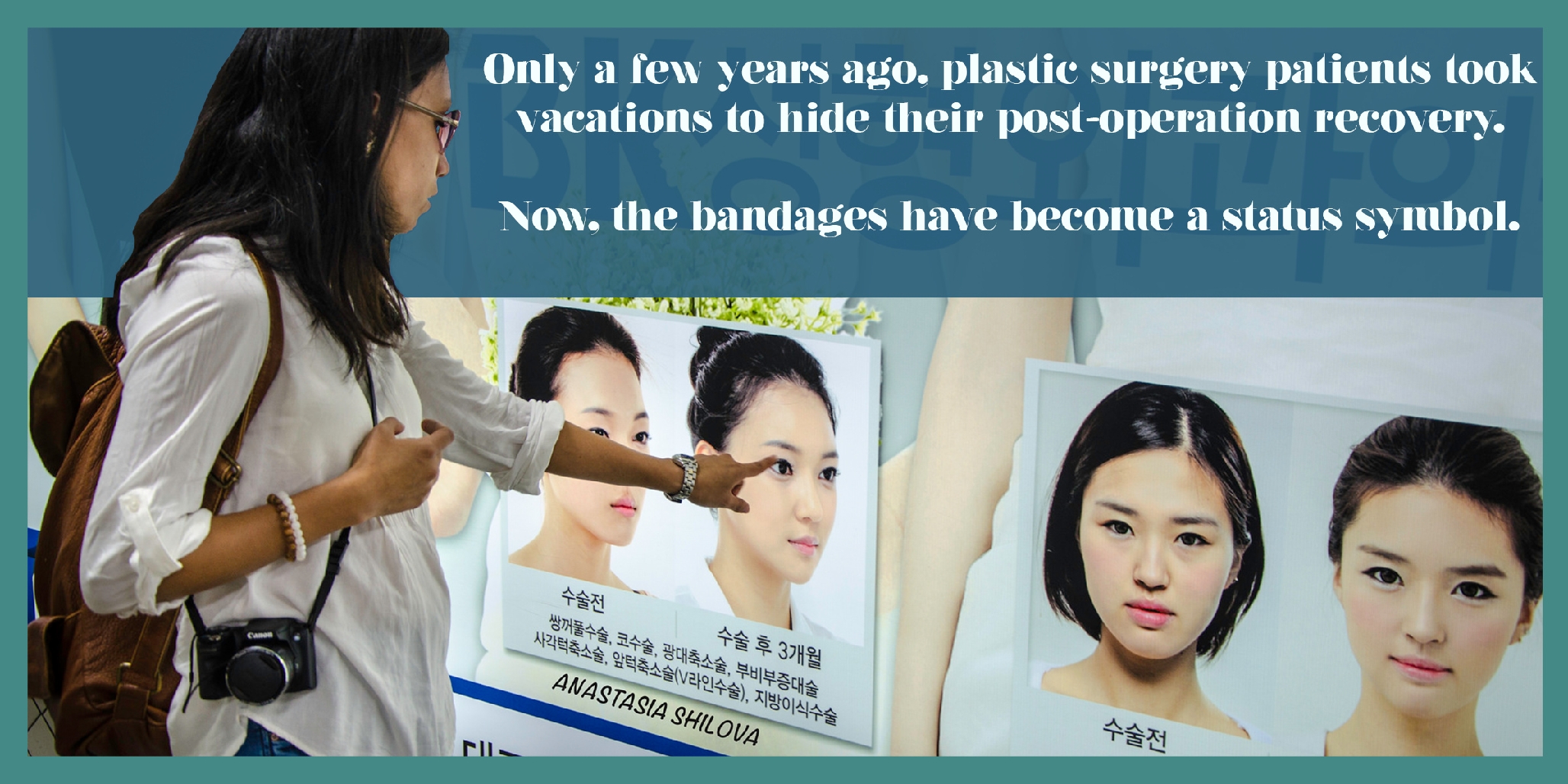 The late David Ralph Millard was a titan in the field of plastic surgery. Obituaries in various medical journals praised him as the "messiah of children all over the world who were born with facial clefts" and "the most brilliant and creative plastic surgeon we have alive." The American Society of Plastic Surgeons named Millard among the top ten "Plastic Surgeons of the Millennium."
A graduate of Yale College and Harvard Medical School, Millard apprenticed Sir Harold Gillies, widely regarded as the father of modern plastic surgery. Gillies had been a surgeon during World War I, when new weaponry injured soldiers in ways previously unimaginable. He reconstructed the disfigured faces of wounded soldiers, and in the process became the first physician to successfully graft a new nose onto a patient — a soldier who had been injured at the Battle of Ypres. Years later, Millard trained under Gillies for two years in England, becoming a close friend and colleague.
In 1954, Millard was stationed in South Korea as the U.S. Marine Corps' chief plastic surgeon. He considered it an opportunity to leave a legacy similar to Gillies, who by then was a celebrated innovator in the field. Postwar South Korea offered no shortage of patients for Millard, who deemed the country "a plastic surgeon's paradise." He was tasked with providing reconstructive surgery for wounded soldiers and children with congenital diseases.
A common case Millard encountered was the cleft palate. He saw the defect as a normal lip twisted into an abnormal shape, and reasoned that he could rotate the lip into its correct position, filling the remaining cavity with facial tissue. His solution proved ground-breaking: now viable for younger children, Millard's techniques achieved a more natural appearance in patients than early corrective surgeries were able to achieve. A 1964 Time article offers a myth-like account of Millard's discovery: supposedly, the surgical procedure came to him in a mid-day reverie. Upon waking, he exited his tent and literally lassoed a passing Korean boy, who soon became the first recipient of the revolutionary cleft palate treatment.
As seen in Time's fanciful account and in other articles written about the U.S. Marine surgeon, Millard became famous for this innovation. Absent from such articles, however, is Millard's other groundbreaking work in Korea: the advancement and popularization of the double-eyelid surgery.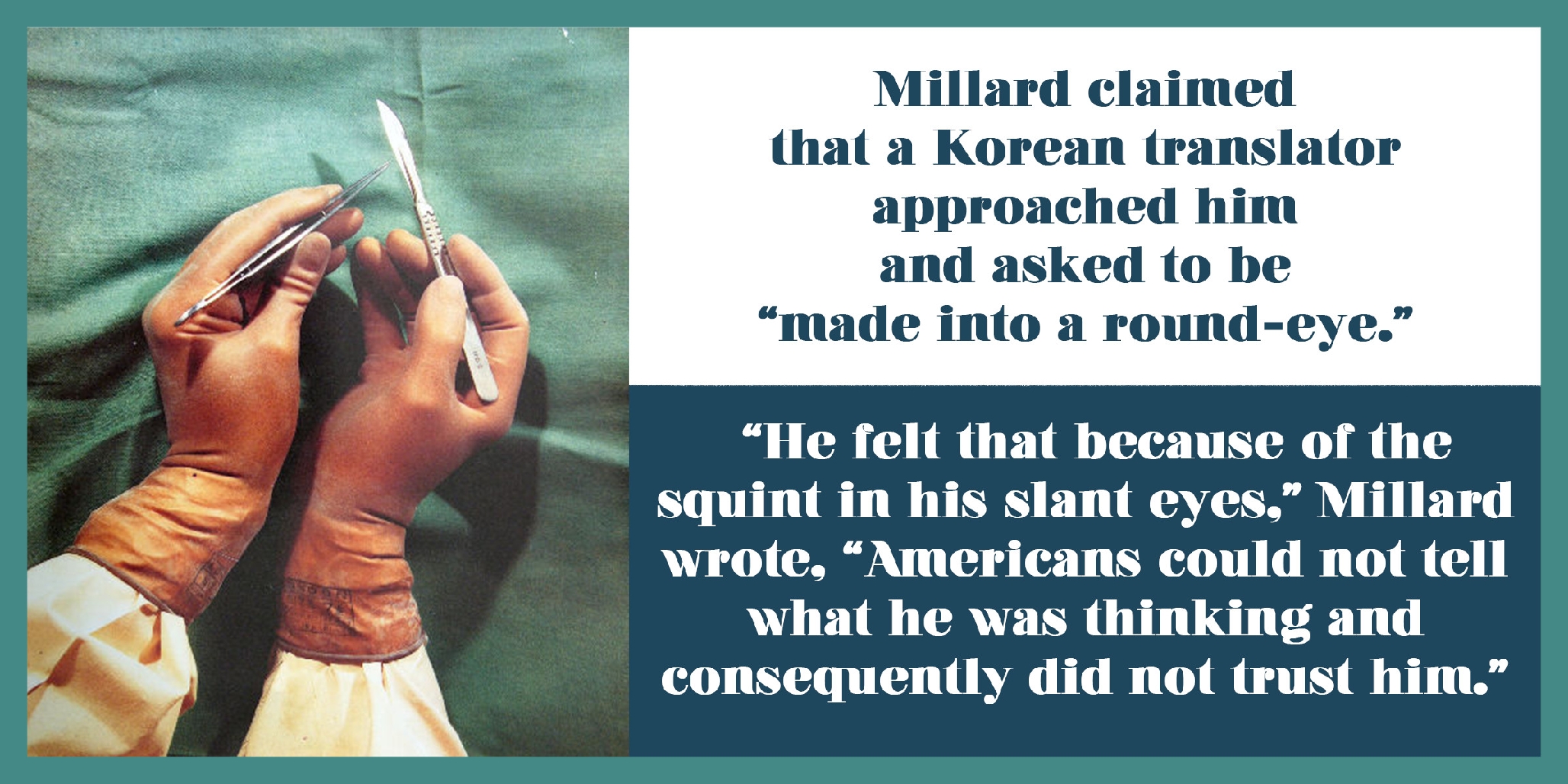 Millard first considered altering the human eye while reconstructing eyebrows for burn victims. He began to keenly study the eye, socket, and folds, musing how to change it from "Oriental to Occidental." He initially thought that he would never find a consenting patient to operate on, until a Korean translator approached him and, according to accounts from the era, asked to be "made into a round-eye." "He felt that because of the squint in his slant eyes, Americans could not tell what he was thinking and consequently did not trust him," Millard later wrote. "As this was partly true, I consented to do what I could."
Upon researching the operation, Millard found that surgeons in Japan, Hong Kong, and even Korea were already performing double-eyelid procedures for both medical and cosmetic reasons. Unable to find any publications about the surgery that were written in English, Millard devised his own operation. He decided to raise the nasal bridge and widen the eyes to reduce the "Asian-ness" of his patient's visage. Millard first transplanted cartilage to the nose. He then tore the inner fold of the eyelid, removed fat resting above the eye, and sutured folds of skin together, creating a double eyelid. The interpreter was pleased with Millard's work, and reported that after the operation, his ethnicity was often mistaken for Italian or Mexican.
Millard went on to cosmetically alter the faces of numerous Koreans during his yearlong tour. Many of his patients were women in the sex trade, electing to go under the knife in order to increase their appeal to American GIs. Millard trained local doctors to continue his work after his departure. Once stateside, he published two papers on his Asian eye operation: "Oriental Peregrinations" in 1955 and "The Oriental Eyelid and Its Surgical Revision" in 1964.
Both works display an insensitive and at times racist tone. Millard writes that the Asian monolid "gives the effect of an expressionless eye sneaking a peep through a slit, a characteristic which through fact and fiction has become associated with mystery and intrigue." He later concludes, "the plastic surgeon may be called upon to help [Asians living abroad] blend in with their surroundings."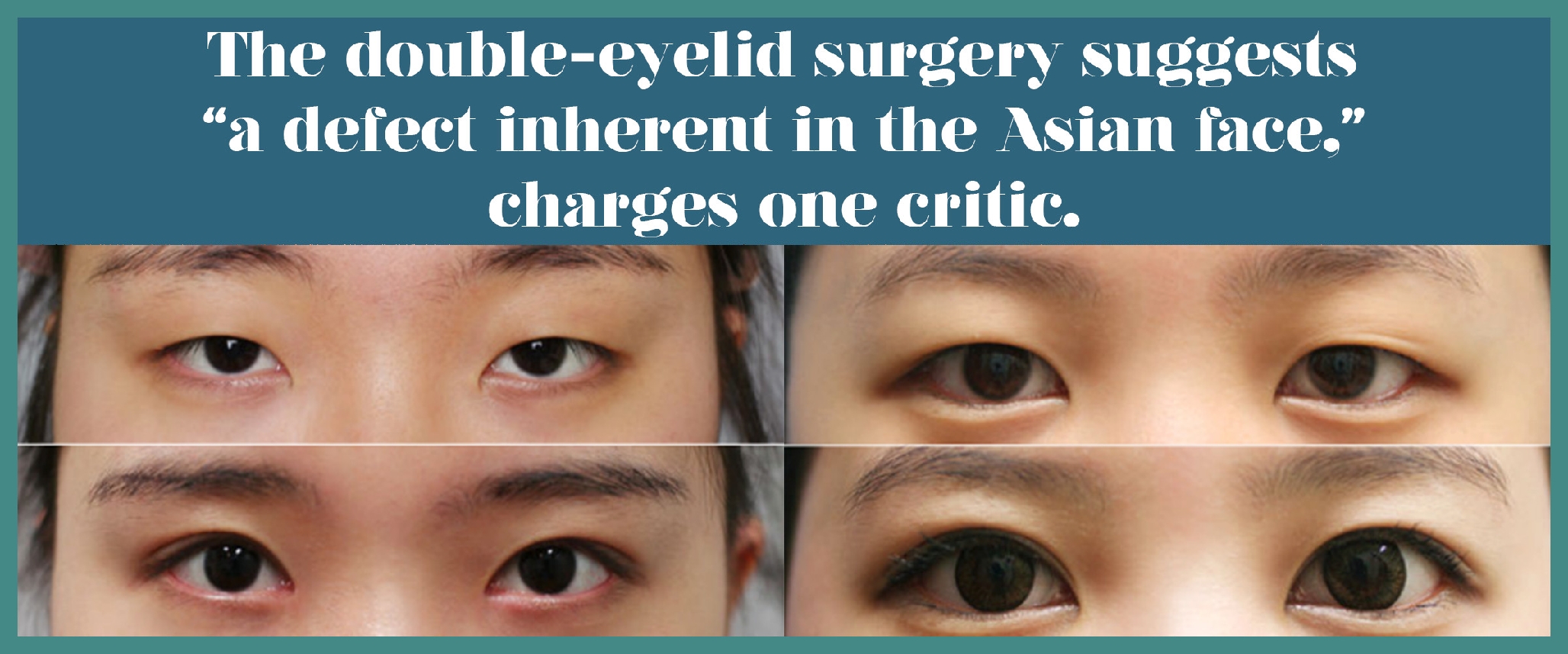 Multiple historians have cited Millard and his publications as clear evidence for Western influence on modern beauty ideals in South Korea. In Imperial Citizens, Nadia Y. Kim wrote that "the U.S. military and [Millard] were crystallizing Koreans' sense of inferiority to their White racial bodies." In Asian/American, David Palumbo-Liu argued that Millard's work implied "a defect inherent in the Asian face … [which] must inevitably be modified if the East is to have any authentic contact with the West."
And yet, despite the story of David Ralph Millard, some cosmetic surgeons and scholars still maintain that double-eyelid surgery is not a procedure aimed at mimicking Western features. In a 1989 medical journal, surgeons from Korea, Japan, and Los Angeles declared that the procedure was not for "Caucasianization of the Oriental eye," but simply to help patients "look more attractive within the current aesthetic norms of [the patient's] own culture." Scholars point out that Millard was not the first to perform double-eyelid procedures — accounts exist as early as an 1895 Los Angeles Times article that describes similar operations occurring in Japan — but he simply became the one to revolutionize and popularize the operation.
The historical context of Millard's visit to Korea perhaps best elucidates the Western connotations that the double-eyelid surgery carries. The Korean War had just exposed the entire country to the Western world via the U.S. military's presence. After the fighting stopped, Koreans sought to emulate the people they now associated with influence, money, and power. "More critical than the surgery itself," writes John DiMoia in Reconstructing Bodies, "was the postwar context in which it took place, with medical relief frequently mobilized as evidence of benevolent intentions, conveniently ignoring the power differences embedded within the U.S.-ROK [Republic of Korea] relationship."
In Korea, Millard left a legacy that neither he nor the U.S. military had planned, laying the foundation for Seoul to become the worldwide mecca of plastic surgery. Clinics offering the double-eyelid procedure proliferated throughout Korea during the 1960s. By the 1990s, the industry's growth caught the attention of Western media outlets. The Wall Street Journal and Los Angeles Times ran stories about Koreans' decisions to "go Anglo" — the common slang at the time. Today, the number of Koreans undergoing surgery has reached a critical mass, and the menu of services has expanded far beyond Western eyes: hip augmentation, facial implants, skin whitening, even calf reduction (which uses Botox injections to reduce leg muscle size).
This trend is not without risk. The huge demand for cosmetic procedures has put uncertified doctors in business — a number that some estimate to be as high as 80 percent of all cosmetic surgeons in South Korea — resulting in botched and, at times, lethal procedures. V-line surgery is one of the newest and most dangerous procedures to reach the operating room. Aimed at reshaping and slimming the jawline, the surgery involves shaving — and occasionally breaking — the jawbone to achieve a delicate, V-shaped chin. As its popularity has continued to grow, many Korean women are beginning to have an eerie resemblance to one another.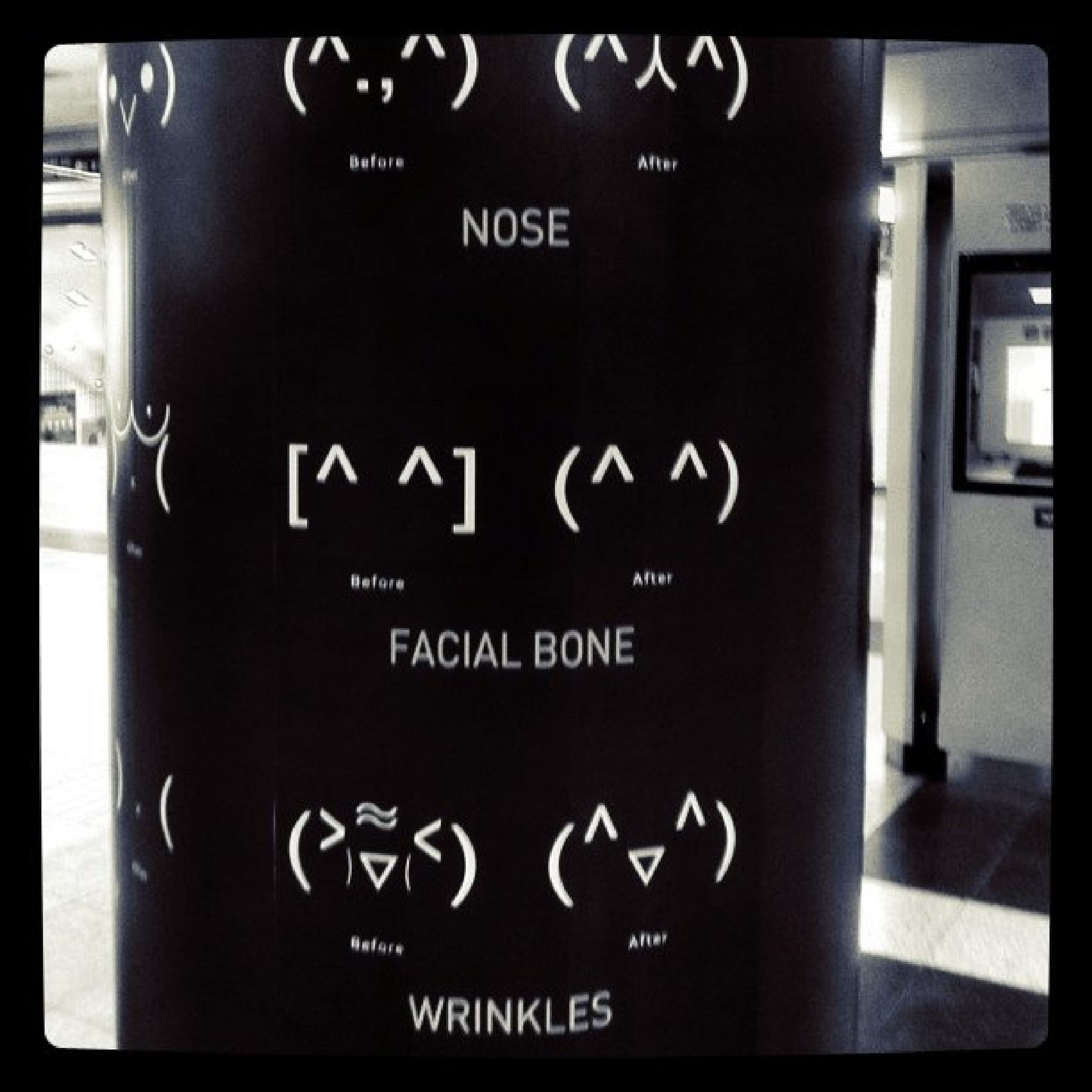 Recent patients can be seen strolling around Seoul wearing their bandages and talking excitedly about the procedures they have planned next. Only a few years ago, plastic surgery recipients took vacations to hide their post-operation recovery. Now, the bandages — and the augmented features beneath — have become something of a status symbol.
In his 1986 book Principalization of Plastic Surgery, Millard compiled a list of principles he thought every cosmetic surgeon should know. The eighth principle reads: "Know the Ideal Beautiful Normal." A colleague later recalled that Principle Eight had been Millard's favorite: "He, more than anyone of his era, was able to achieve it."
As the double eyelid and the V-line jaw explode in popularity, Korean women and men are adhering to Principle Eight just as Millard advised. They seek ideal beauty, now synonymous with ideal normalcy in their society, at great cost — creating a surreal, self-perpetuating cycle.
Or perhaps, Principle Eight captures the central problems with the cosmetic surgery obsession, both in South Korea and elsewhere: Is there an "Ideal Beautiful Normal"? Who or what has defined it? And what are the consequences of pursuing it?
* * *
Laura Kurek has taught English in Poland, worked the counter at a Chipotle Mexican Grill, and is currently pursuing a degree at Georgetown University, where she chairs the editorial board of the Georgetown Voice.
Cover photo courtesy of Eugenia Loli; modified with elements from Shutterstock